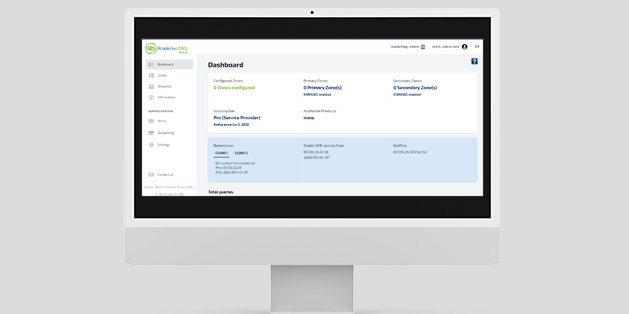 Relaunch of RcodeZero DNS web interface
16.06.2022 22:18
ipcom's RcodeZero DNS Anycast service has been around for more than ten years. During this time, it has developed rapidly from its origins in Austria to a top international product.
One reason for its success has been the fact that customer feedback has always been incorporated into product development.
To continue to meet customer requirements, the launch of the new RcodeZero DNS web interface took place at the beginning of June 2022.
What's new?
Explore the following new features:
· Design optimisations and improved usability
· Simple and intuitive zone management
· Introduction of user management administration with different permissions and roles
· Multiple accounts per user with easy switching in the web interface
· Multiple tokens with different permissions
See for yourself!
Whether you are a large or small company, an Internet Service Provider or a TLD Registry, RcodeZero DNS has the right product solution for every customer. Test the new web interface for 30 days free of charge and without obligation.